Request a 10-minute call with a KnowHow Expert
Thank you! Your submission has been received!
Oops! Something went wrong while submitting the form.
General Managers
Unlock the Potential of Your Workforce
Support your team with instant access to your company's how-to: ensuring consistent customer experience, efficient workmanship, and adherence to Standard Operating Procedures. Say goodbye to outdated manuals and fragmented information from experts on your team.
Accelerate Onboarding and Training
Efficiently onboarding and training new hires is essential for building a skilled and capable workforce. With KnowHow, it's easy to standardize the process, providing step-by-step guidance that ensures new team members quickly become productive and confident in their roles.
How KnowHow Helps General Managers
KnowHow has been purpose-built to help workforces thrive, supporting technicians with onsite how-to and empowering management to work on the business instead of in the business.
Equip your workforce with step-by-step support
Are you tired of playing phone tag with field staff when something goes wrong? Give your whole workforce immediate access to vital information exactly when and where they need it. Say goodbye to missed calls and hello to Howie, your team's new helping hand.
Easily build and share
Standard Operating Procedures
We recognize that creating SOPs from scratch can be a tedious task. That's why you get hundreds of industry-standard templates for common restoration tasks, fully customizable to your needs, and automatically translated for your entire workforce.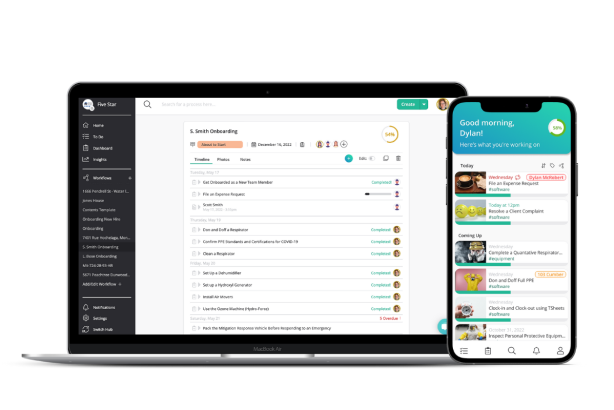 Manage onboarding and upskilling with ease
Simplify onboarding and boost productivity with KnowHow's user-friendly workflows. Create step-by-step procedures and repeatable workflows that ensure team member has the necessary resources and training to drive long-term success.
Frequently Asked Questions
Answering questions is our bread and butter. Here's a few questions and their corresponding answers:
How can KnowHow answer my team's questions for me?
What's the difference between KnowHow and a Learning Management System (LMS)?
How easy will it be for my field staff to use? Will they need to be trained?
Is KnowHow only available for English-speaking teams?
Customer Testimonials
"KnowHow makes onboarding new staff so easy. I just onboarded an Accounts Payable clerk and all the training was in KnowHow. It took no time whatsoever for her to learn how we want things done."
Lisa Blair - Owner & Business Manager
Paul Davis Restoration du Sud-Ouest
My advice is to sign up for KnowHow. Our stores in Florida, Texas, and Oklahoma offer consistent training and guidance thanks to KnowHow, ensuring a seamless experience at every location.
Heather Warnecke - Senior Executive Assistant
GOOD FEET
"KnowHow brings value to executives and blue-collar workers alike. It's scalable and applicable in diverse sectors, whether your job is software-based or more hands-on and mechanical in nature."
Evan Kostreva - Franchise Business Coach
EVERLINE FRANCHISING
"Our technicians don't have to go find their Project Manager when they have a question anymore. They have the resources right at their hands to solve any problem, so they show up on a job site prepared."
Kinyon Martin - Founder
RESTORE RITE