Request a 10-minute call with a KnowHow Expert
Thank you! Your submission has been received!
Oops! Something went wrong while submitting the form.
Restoration Owners
Grow Your Business with Confidence
Consistency is crucial for restoration business owners to enhance gross profit margin, reduce turnover, and rapidly increase business value. KnowHow provides the tools to execute with precision, every single time.
Execute with Consistency, Again and Again
Ensure every team member, manager, and subcontractor is trained up and skilled in the areas they need. Measure employee productivity, and eliminate interruptions and profit-destroying mistakes.
How KnowHow Helps Owners
KnowHow has been purpose-build from the ground up to save owners time, increase profit margin, and help you work on the business instead of in the business. This is how we do it.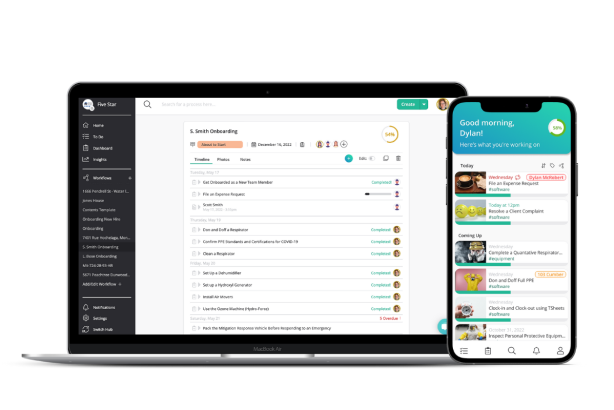 Accelerate training
and onboarding
Create repeatable workflows that provide new hires with all the essential resources and training they need right from the beginning, and ensure they have expert help whenever questions come up.
Gain insights into
your workforce
KnowHow doesn't just share knowledge with your team; it's your window into your workforce's expertise. As your workers complete tasks and earn badges for their experience, you gain insights into their growth.
Ensure everyone has
up-to-date how-to
KnowHow ensures that every employee stays up-to-date with the latest policies, processes, and SOPs. With automatic translations into their preferred language, it's easy to drive consistency across your workforce.
Explore Solutions
Frequently Asked Questions
Answering questions is our bread and butter. Here's a few questions and their corresponding answers:
Does KnowHow work best for small business or larger restoration franchises?
How easy will it be for my field staff to use? Will they need to be trained?
Is KnowHow only available for English-speaking teams?
Testimonials
"KnowHow makes onboarding new staff so easy. I just onboarded an Accounts Payable clerk and all the training was in KnowHow. It took no time whatsoever for her to learn how we want things done."
Lisa Blair - Owner & Business Manager
Paul Davis Restoration du Sud-Ouest
"KnowHow has been a big game-changer for us.
That's how we've been able to manage better.
It's just such a beautiful programme."
Danielle Vest - Owner
Preferred Cleaning Service
"From upper-level executives to the guys right on the ground, there's something for everybody. It's scalable, and it doesn't matter if you have a really complex software-based job or you have something that's more mechanical and blue-collar in nature, like we're dealing with. You know, there's value in every sector for KnowHow."
Evan Kostreva - Franchise Business Coach
EVERLINE FRANCHISING
"Our technicians don't have to go find their Project Manager when they have a question anymore. They have the resources right at their hands to solve any problem, so they show up on a job site prepared."
Kinyon Martin - Founder
RESTORE RITE