Request a 10-minute call with a KnowHow Expert
Thank you! Your submission has been received!
Oops! Something went wrong while submitting the form.
Project Managers
Exceed Expectations, Project after Project
Navigate your next project with ease, ensuring timely execution and consistent quality - every time. KnowHow makes your work day simpler, ensuring everyone has on-demand, step-by-step guidance that helps meet deadlines, maintain work quality, and surpass client expectations.
Handle the Unexpected with Confidence
Handling the unpredictable nature of restoration projects can slow down progress and cause schedule slippage. But with KnowHow's instant access to expertise, your team can overcome hurdles quickly and effectively.
How KnowHow Helps Project Managers
KnowHow has been purpose-built to help workforces thrive, supporting everyone with on-demand how-to so they can deliver results that leave your clients not just satisfied, but truly impressed.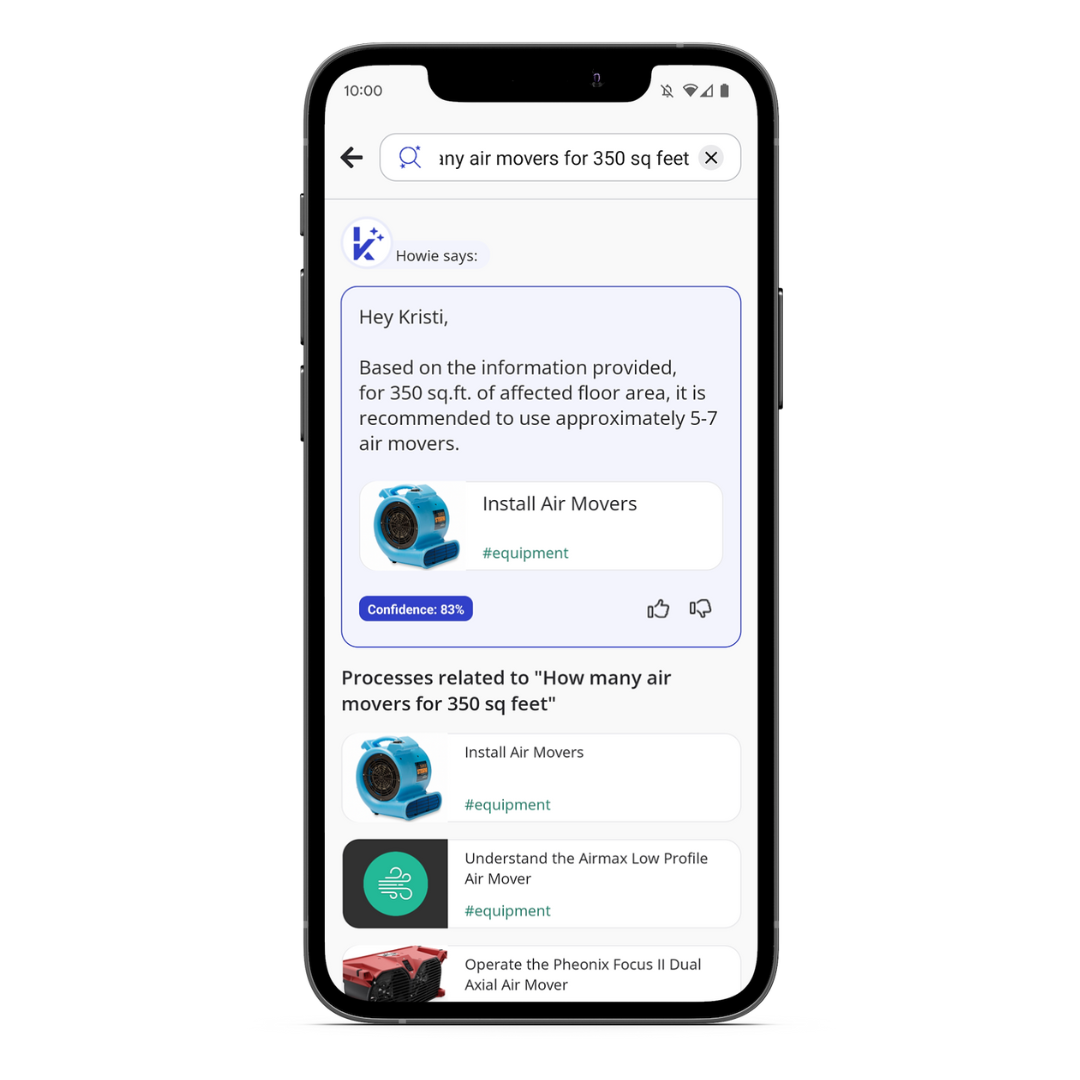 Instant answers to
on-site questions
In the face of unanticipated water damage or complex mold remediation issues, KnowHow's on-demand guidance enables your team to solve problems quickly and competently. Just ask Howie and get instant, expert advice.
Best practices in
everyone's hands
KnowHow ensures everyone has access to critical processes, up-to-date best practices, and step-by-step guidance. Say goodbye to relying on memory, outdated manuals, or a sole expert on the team.
Oversee progress
on critical tasks
Effortlessly assign and track tasks, knowing who accomplished what, where, and when. KnowHow reduces risk, improves compliance, and helps meet insurance requirements with exportable reports.
Bridge language
gaps with ease
Project success thrives on clear communication. KnowHow cuts through language barriers by instantly translating step-by-step instructions into your team members' preferred languages, ensuring smooth operations across the board.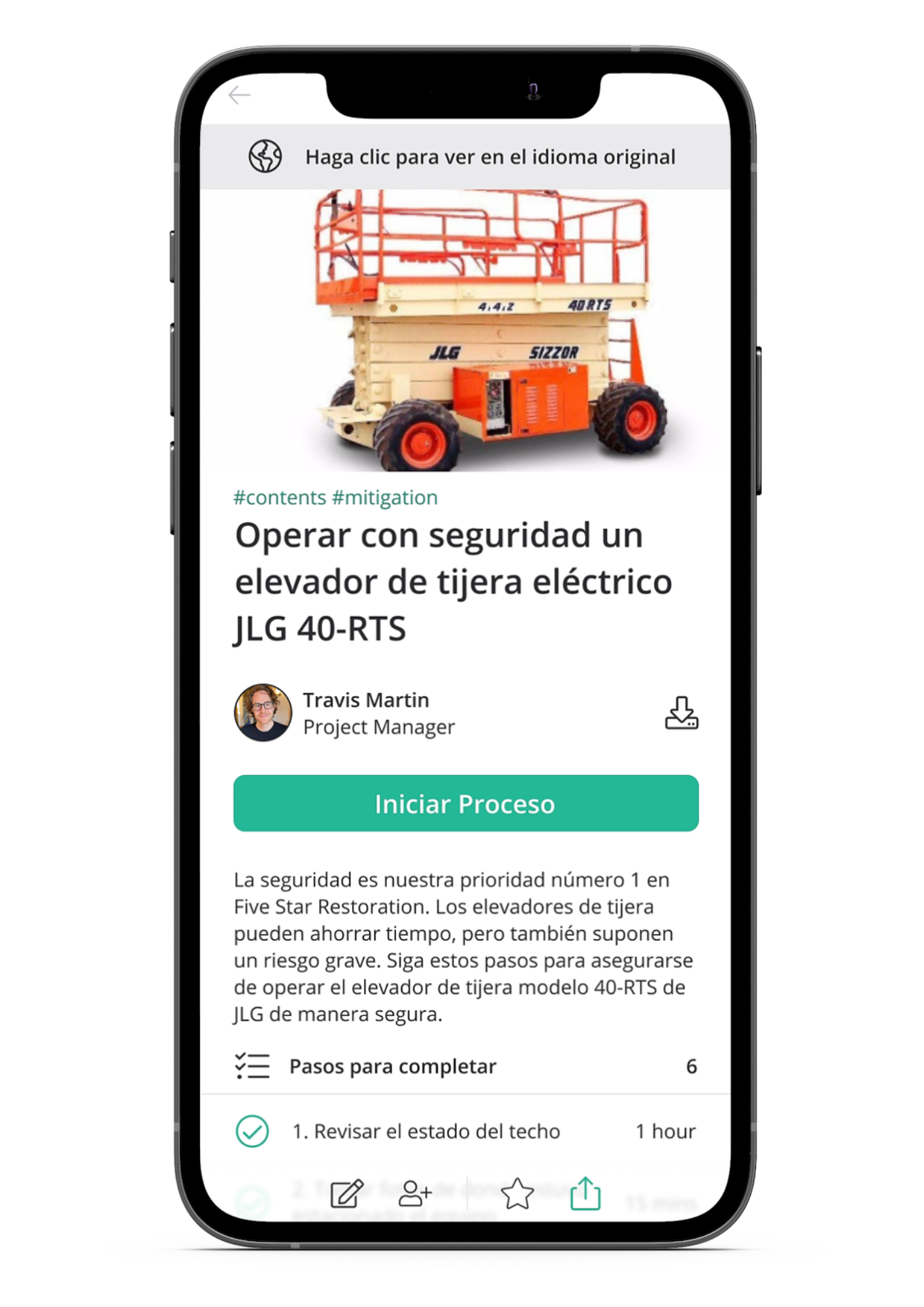 Frequently Asked Questions
Answering questions is our bread and butter. Here's a few questions and their corresponding answers:
What kinds of restoration templates does KnowHow have?
Can KnowHow help with logging and procedure completions?
Is KnowHow only available in English?
Customer Testimonials
"KnowHow makes onboarding new staff so easy. I just onboarded an Accounts Payable clerk and all the training was in KnowHow. It took no time whatsoever for her to learn how we want things done."
Lisa Blair - Owner & Business Manager
Paul Davis Restoration du Sud-Ouest
My advice is to sign up for KnowHow. Our stores in Florida, Texas, and Oklahoma offer consistent training and guidance thanks to KnowHow, ensuring a seamless experience at every location.
Heather Warnecke - Senior Executive Assistant
GOOD FEET
"KnowHow brings value to executives and blue-collar workers alike. It's scalable and applicable in diverse sectors, whether your job is software-based or more hands-on and mechanical in nature."
Evan Kostreva - Franchise Business Coach
EVERLINE FRANCHISING
"Our technicians don't have to go find their Project Manager when they have a question anymore. They have the resources right at their hands to solve any problem, so they show up on a job site prepared."
Kinyon Martin - Founder
RESTORE RITE