Request a 10-minute call with a KnowHow Expert
Thank you! Your submission has been received!
Oops! Something went wrong while submitting the form.
On-demand guidance for whatever the job is. Any place. Anytime.
KnowHow gathers your company's expertise into one easy-to-access app so you can equip your workforce with the how-to they need to get the job done right.

Request a demo to see for yourself.
‍
Software Built for Restoration Companies
No matter where you're working or what device you're on, KnowHow ensures everyone has on-demand access to your company's proven methods whenever they need them.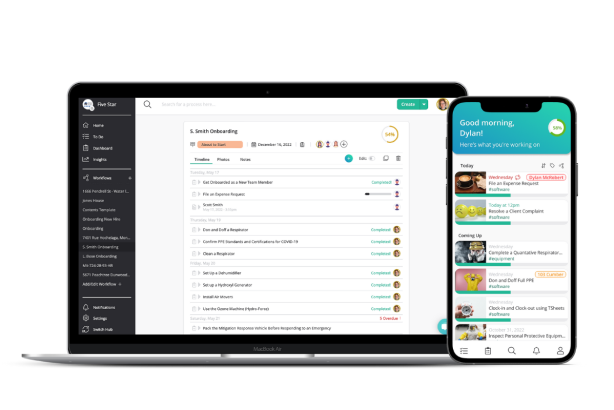 PUT EXPERT GUIDANCE IN EVERYONE'S POCKET
Straightforward answers, whenever you need them
Don't force your workforce to comb through scattered documents or outdated manuals. Give them instant, plain-language answers when questions come up, based on your company's processes and policies.
‍
GET NEW HIRES UP TO SPEED FASTER
Clear roadmaps from day one to productivity
Onboarding new hires can be chaotic, especially when juggling a large restoration project. KnowHow reduces this stress with easy-to-set-up workflows and clear, step-by-step instructions that instill confidence in new employees while saving management valuable time.
‍
IMPROVE EMPLOYEE SATISFACTION AND RETENTION
Step-by-step support for every step of the way
Giving your team the right support at the right time isn't just about efficiency – it's about satisfaction and retention too. Equip everyone with the how-to they need to thrive in their career.
‍
OVERSEE PROGRESS ON CRITICAL TASKS
Get updates on who did what, where, and when
With clear instructions and a reliable record of completed tasks, you can say goodbye to concerns about who did what, when, where, and how. Need proof of completion for liability insurance? KnowHow has you covered with hard-copy records at the click of a button.
EASILY BUILD, MAINTAIN, AND SHARE SOPs
Build and maintain a better Operations Manual
Becoming a process-driven company can seem overwhelming at first, particularly when faced with the challenge of creating and managing SOPs. KnowHow makes the first step easier with hundreds of customizable templates for common restoration jobs, ready to share with your team on any device.
‍
Book a demo and discover why industry leaders are choosing KnowHow.
Get a Demo
Frequently Asked Questions
Answering questions is our bread and butter. Here's a few common questions and their corresponding answers:
What makes KnowHow better than the way we currently do things?
How does KnowHow give me more of my time back?
How will we be able to access KnowHow if we aren't in the office?
What devices are compatible with the KnowHow app?
Does KnowHow provide pre-built, templated processes we can use?
Customer Testimonials
"KnowHow makes onboarding new staff so easy. I just onboarded an Accounts Payable clerk and all the training was in KnowHow. It took no time whatsoever for her to learn how we want things done."
Lisa Blair - Owner & Business Manager
Paul Davis Restoration du Sud-Ouest
My advice is to sign up for KnowHow. Our stores in Florida, Texas, and Oklahoma offer consistent training and guidance thanks to KnowHow, ensuring a seamless experience at every location.
Heather Warnecke - Senior Executive Assistant
GOOD FEET
"KnowHow brings value to executives and blue-collar workers alike. It's scalable and applicable in diverse sectors, whether your job is software-based or more hands-on and mechanical in nature."
Evan Kostreva - Franchise Business Coach
EVERLINE FRANCHISING
"Our technicians don't have to go find their Project Manager when they have a question anymore. They have the resources right at their hands to solve any problem, so they show up on a job site prepared."
Kinyon Martin - Founder
RESTORE RITE